Routes
Southbridge Credit Union's Tour Opacum provides bike riders with the opportunity to explore the beautiful towns and countryside of the Quaboag and Quinebaug river valleys, with proceeds from the ride supporting the charitable work of Opacum Land Trust, preserving land across this region. Choose from one of six routes to explore the Opacum Land Trust service area with a 100-mile Full Tour, 77-mile 3/4 Tour, 50 mile Half Tour, a 27 mile Quarter Tour, 10 mile X Tour, or a 2 mile Mini Tour for families and those who just want to take it easy. The longer tours are hilly and offer a great challenge for experienced bike riders while the X Tour and Mini Tour are fine for less experienced or new riders.
All routes are on paved roads and fully marked. Click here to view and download the route maps and cue sheets. Please note- routes are subject to change up to the event day, please check your email before the event for any changes.
99.8 miles, 6:30 am start
Take the full tour to challenge yourself and take in the beauty of this region. It starts at Brimfield Winery, takes you through Wales, and Holland for your first rest stop, then to Sturbridge for a second stop. Continue up through Brookfield and connect back at the winery for your third stop. Then it's back on the road to Warren, West Brookfield, and then a final stop at the Flynt Quarry in Monson for a rest. Now you're on the home stretch back to Brimfield, where a cold beer, delicious food, and live music await you.
77 miles, 8:00 am start
Not ready to commit to the Full Tour but mastered the Half Tour? Sign-up for the new 77-mile "3/4 Tour." Complete the "Half Tour" loop, refuel at the winery rest stop, and then head out for a 29-mile loop before returning to the winery for the after-party.
48.2 miles, 9:30 am start
Enjoy a scenic, challenging Half Tour, which aligns with the first part of the Full Tour. Starting at Brimfield Winery, you'll ride through Wales, take your first stop in Holland, and head through Sturbridge for your second stop at co-hosts Rapscallion Brewery. Now you're halfway back- just continue up to Brookfield and then back down to the winery in Brimfield.
27.4 miles, 10:30 am start
Looking for a good ride to get the blood pumping, but don't want to overdo it? Then the Quarter Tour is for you. Starting at the Brimfield Winery you'll ride through Wales and then enjoy a break after 14 miles at the rest stop in Holland. Then you'll head through Sturbridge and back to Brimfield for a beer and food- you deserve it! Although shorter than the Half and Full tours, the Quarter tour still includes many of the hills, so enjoy the downhills when you can.
10.1 miles, 11:00 am start
The X-Tour gives you all of the beauty and none of the hills (well almost none). Enjoy a beautiful 10-mile ride primarily in Brimfield and be back at the winery before you know it!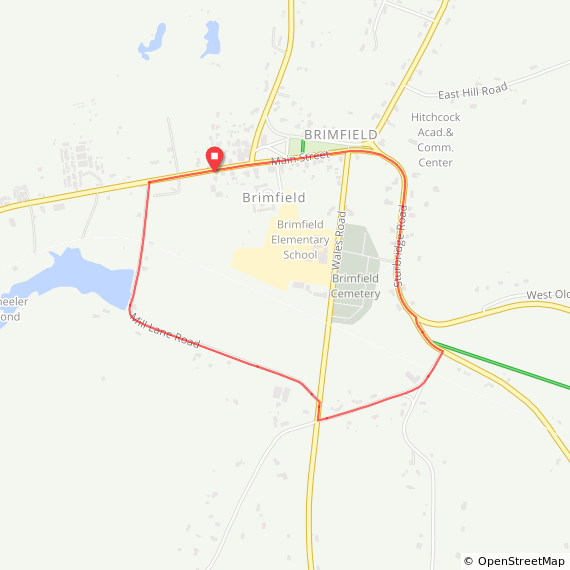 1.8 miles, start anytime 8- 2
Parents with kids or anyone looking for a quick ride is encouraged to register for Mini Tour. The ride is flat and takes you on a short loop around the winery and back. Ride it once or customize your route length by riding multiple laps! Kids are free, but they must be registered with an adult to participate.
---
Pricing
Please Note: Tour Opacum will be held rain or shine. We are unable to offer refunds and apologize for any inconvenience. Your registration is a charitable donation to help Opacum Land Trust with its conservation work.
Full, 3/4, Half, Quarter, & X Tours Pricing

Register By:
Adults
Juniors (under 18)
July 15th
$50 & a free shirt
$30 & a free shirt
August 15th
$60 & a free shirt
$40 & a free shirt
Sept. 9th
$60
$40
9/13- last day for online registration
$65
$45
Walk-in registration starts at 6:00am on event day.
$67
$47

Mini Tour

Register By:
Adults
Kids
July 15th
$30 & a free shirt
Free
August 15th
$40 & a free shirt
Free
Sept. 9th
$40
Free
9/13- last day for online registration
$45
Free
Walk-in registration for Mini Tour starts at 8am on event day.
$47
Free

FOOD:

Purchase By
Riders
Non Riders (Guests)

Sept. 9th to guarantee a ticket.

After Sept. 9th, a limited # of tickets are available on a first come first served basis through BikeReg.

$15
$25
---
Ride Registration
---
Ride Details
---
Opacum Conservation Properties Along the Tour
More information will be available about these properties and others that Opacum has protected at Tour Opacum. Be sure to check out the Opacum Info Table at the ride.